Advertise on Urban Dead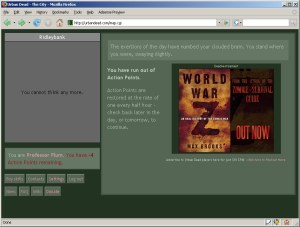 Urban Dead runs paid advertising on its "out of action points" screen, which players see when their character has expended all of its actions for the day - this is the end of the day's play for that character, so it's a good time to catch zombie fans and offer them an interesting site to visit. (Some zombie-themed advertisers have reported clickthrough rates as high as 45%!)
The current rate for advertising here is just $10 CPM (ten US dollars per thousand impressions) - for $10, your ad will appear a thousand times, interspersed with our usual Google ads. Your ad will only appear on the "out of action points" screen, when an individual character has expended all of their day's action.
The minimum ad purchase is just $10, so you're free to run a test thousand and see what clickthrough you get.
Your advert can be a GIF, PNG or JPG file or a YouTube link. The advert should be no larger than 336x280 pixels (336 wide by 280 tall), and the image should not exceed 50k in size.
The submission process is as follows:-
Send an email to deadad@kevan.org specifying the URL that you want the visitor to be sent to when they click the advert, and including the advert artwork as an attachment.
Make a PayPal payment for the correct amount, through the following button:-

Wait for the ad to go live - you'll be sent an email when it's been put into rotation.
Adverts will be reviewed on a case-by-case basis before being run - it's rare that we'd reject anything, but if you're advertising something that you think might be objected to, you should check with us first before putting the art together or making a payment. If we decide not to run an ad that's been paid for, or to pull an ad mid-run, you'll be refunded for any impressions that aren't shown.
If you have any questions about advertising, contact us at deadad@kevan.org.